Fieldwork in the Laboratory

In her solo show, Daniella Grinberg unveils the interconnectedness of things and shows us hidden conflicts between human and non-human entities. Her presented work is part of a large-scale research project which is highly influenced by the theories of the French philosopher and anthropologist, Bruno Latour, including his study 'Laboratory Life' from 1979, which explores the construction of scientific facts, and the actor-network theory which discusses the relationship between human and non-human actors.

The locations of Grinberg's current artistic fieldwork are spaces where human interventions and the wildness of nature can confront in an absurd way. Examples include the mushroom farm, the apiary, the pet shop or the palm house – places where the artist works almost like an anthropologist, collecting field samples, taking notes, and capturing moments as a participating observer. She intentionally creates her notes intuitively, thus countering the myth of objectivity. The visual documentation, essays and found objects displace us from the human point of view and show us the perspective of non-human actors. The exhibition space presents three phases of fieldwork and their different representations – pictures on the wall, a research table filled with notes, and a projection accompanied by a sound installation. By recalling the multi-sensory effects experienced during fieldwork and highlighting the position of non human actors – in this case, animals, plants, and objects – the exhibition helps us deconstruct our image of the world and reinterpret what "knowledge" means.

Curated by Noémi Viski

K11 Labor, Budapest
19 April–4 May 2023




Research Desk, Fieldwork in the Laboratory. K11 Labor, Budapest, 2023. Image by Dani Gaál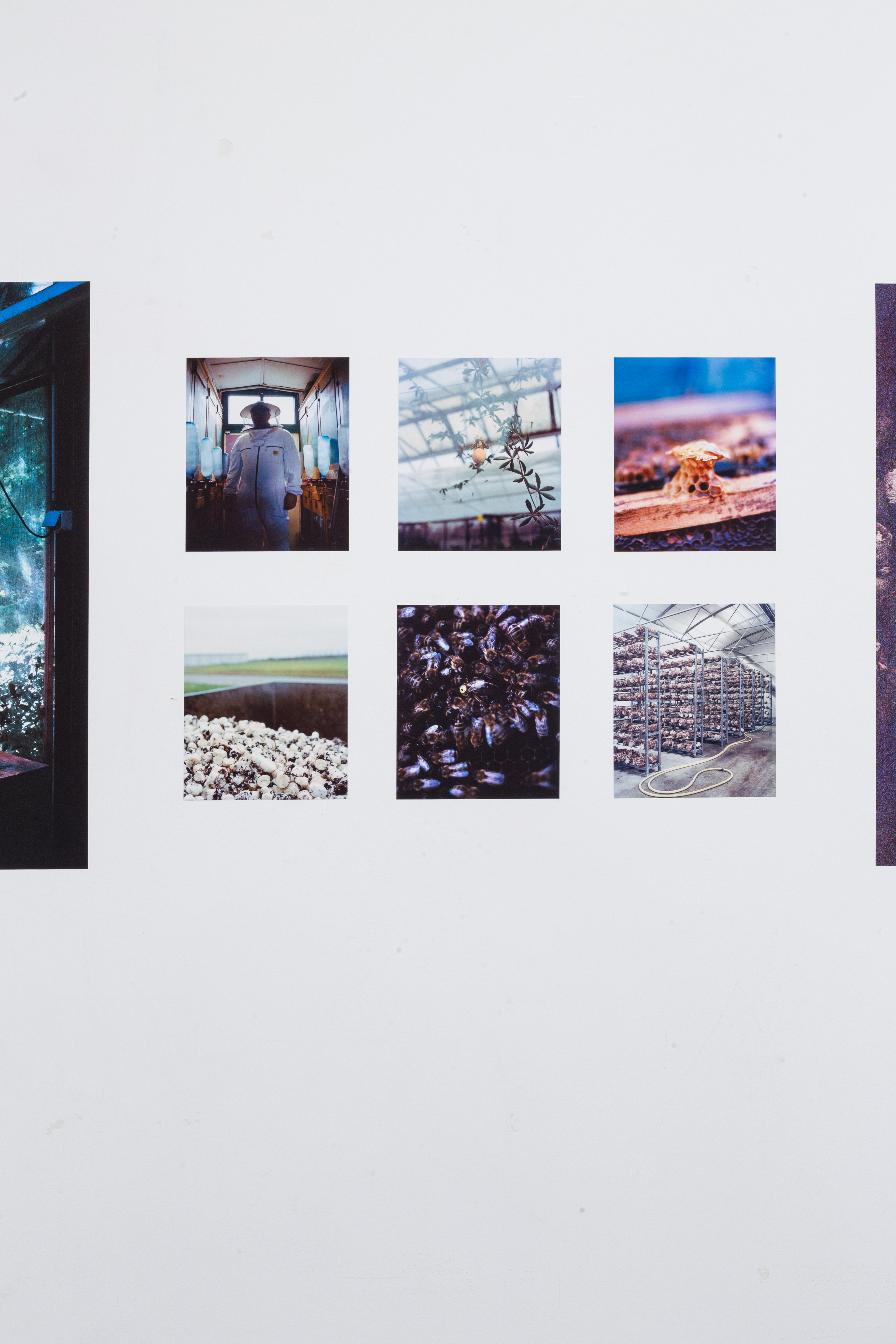 Nature that Comes After...

The deafening sound of a foghorn distorts perception of space. Limbs become stiff and heavy in the cold nothing. Everything is still, and still unmoving. In this big blue atmosphere, the dim, illuminated, humid underworld paused beneath moss and lichen. Looking at the island feels like being lost in a vast country, somewhere now without language or direction. I dream about this future place without knowing its old name, waiting for the world to begin.

I draw from the experience of living on the uninhabited island of Seili for a short period of time. The island is of historical importance, located between Finland and Sweden on the Turku Archipelago. The juxtaposition of its dark past and its current function as a nature preservation and research institute makes us feel we are walking on the surface of a planet which existed long before and will exist long after humanity has perished.

I photograph places and objects that stand before the predictions of the doomsday clock. These become locations and structural indications of

a world which mirrors itself. The work is about waiting for authorities and systems to act for us as a collective entity, while taking on the role of a passive observer.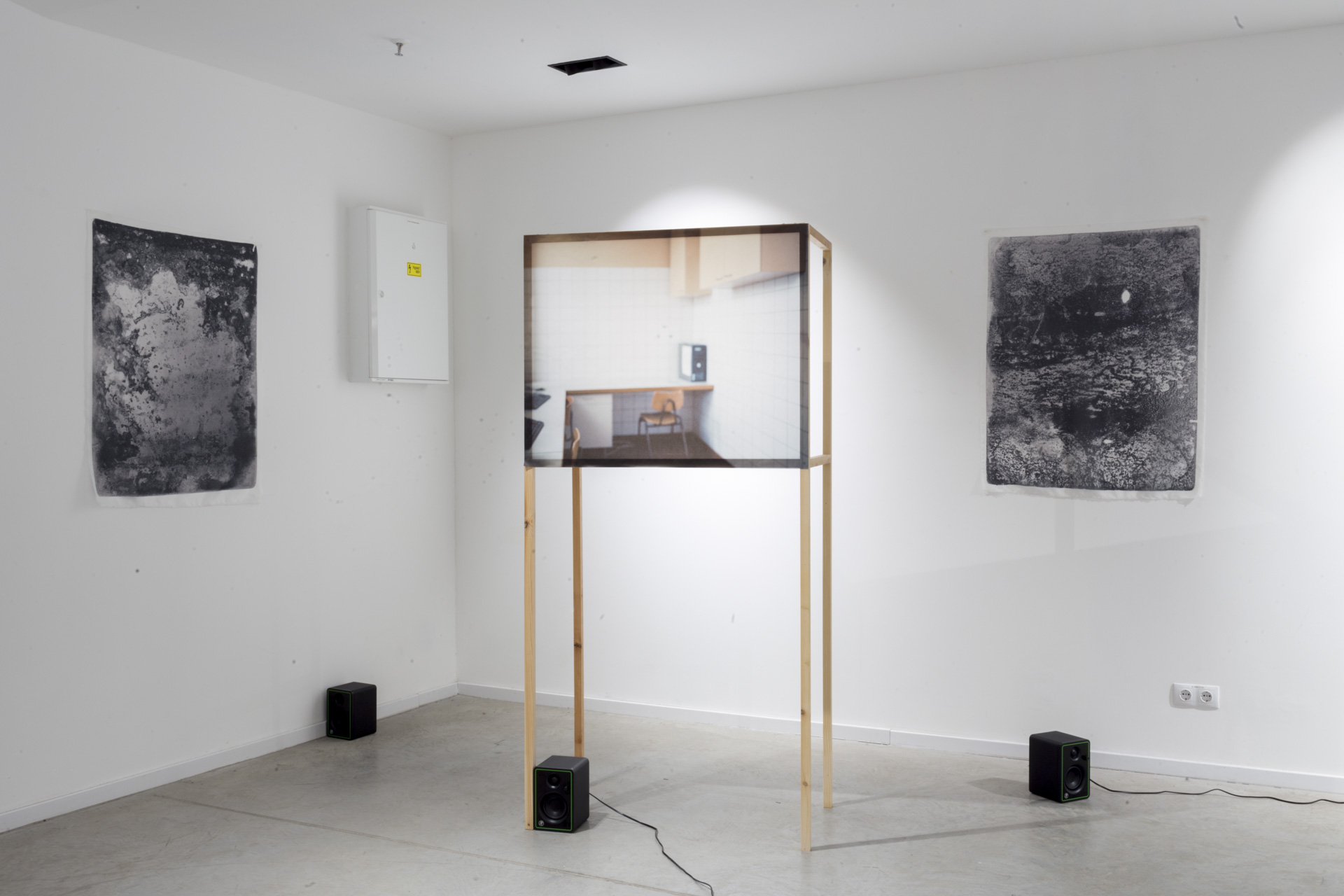 Everywhere, European Studies. MOME Budapest, 2022.

Wonder(ful), Dipoli Gallery, Helsinki, 2022. Image by Anne Kinnunen.



Everywhere. 3-channel soundscape, 30". 2022.




Illegible Matter

Forming layers over time, rust creates a new landscape on the surface it occupies. In the natural process of material breaking down we can try to decipher history. Metal objects covered by rust become artefacts, provoking interpretation. Unfamiliar in content, it becomes like an illegible manuscript, left after humans were trying to pass on their history.




Illegible Matter, DEMO, FKSE Studio of Young Artist's Association, Budapest, 2023. Image by Barnabás Neogrády-Kiss



Illegible Matter. Packing paper, risograph prints, 2022.

An Archive Anarchy





Red Spots

War kills everyone, even those who survive it. History shapes its own heroes, creating and destroying them by rendering them incapable of living without suffering in a society they have helped to form. Human societies advance – the living will achieve their ends, yet a death of a person, a tiny wisp swept away by history remains like an unanswered question, posing no threat but allowing us to see everything in a new light: history is tragic.Despite devoting most of his life to the military, of Soviet Army colonel Semyon Grinberg's life only three months of information remains accessible. My father's memories of a summer spent working for him as a student in Kiev. Being a retired militant, he told war stories, one of which was about the Hungarian Revolution of 1956.

Photographing members of the Russian-Soviet Re-enactment Association of Budapest, I've gathered and reimagined information to find out what my uncle's dreams, aspirations and memories could be, at a time and place in history where participation in the army and its effects were an unquestionable, natural part of life.






1, 1, 1-2-1, HD video, 8"30', 2020
.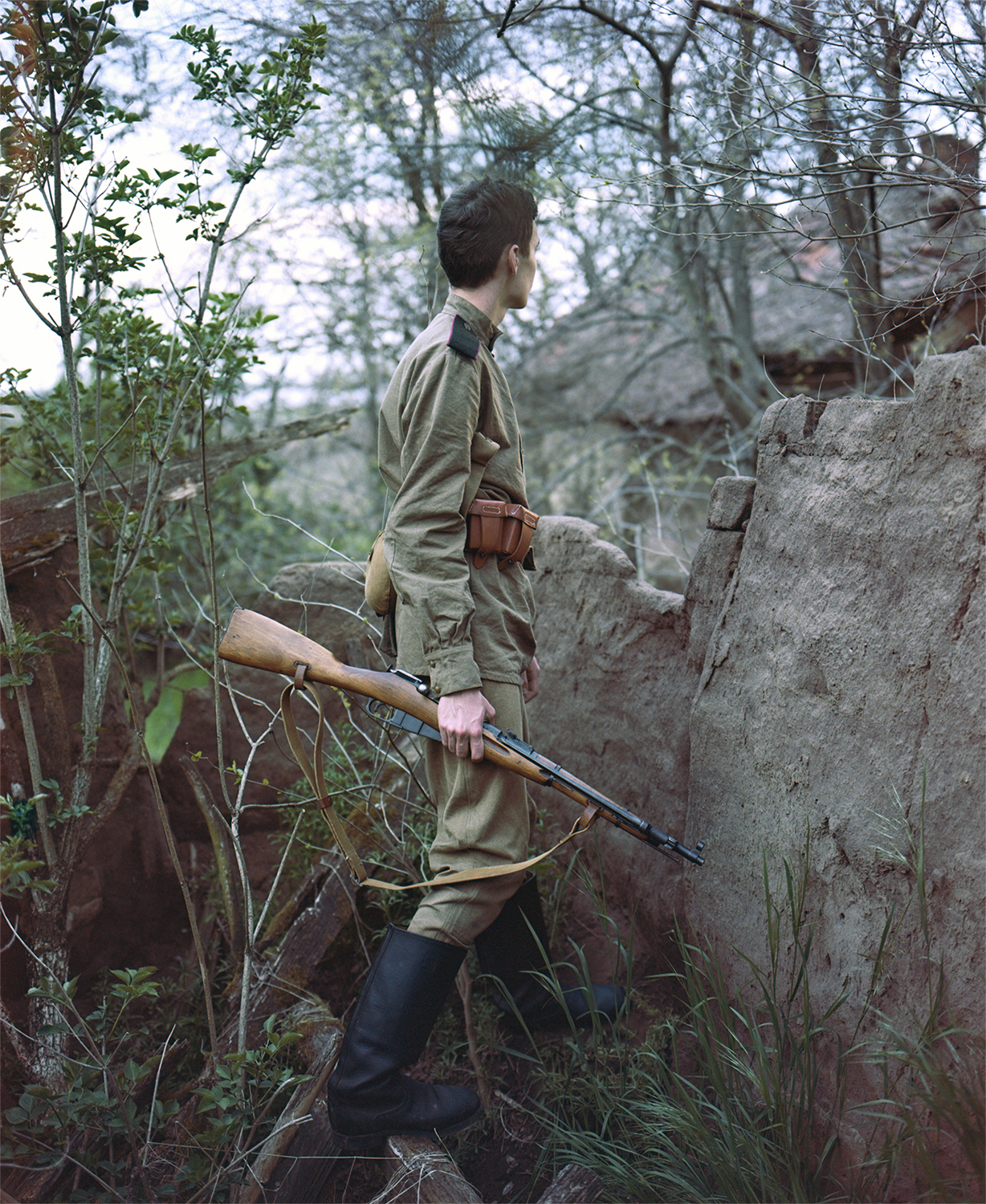 Red Spots. Layout design: Angelika Kuthi, 2023.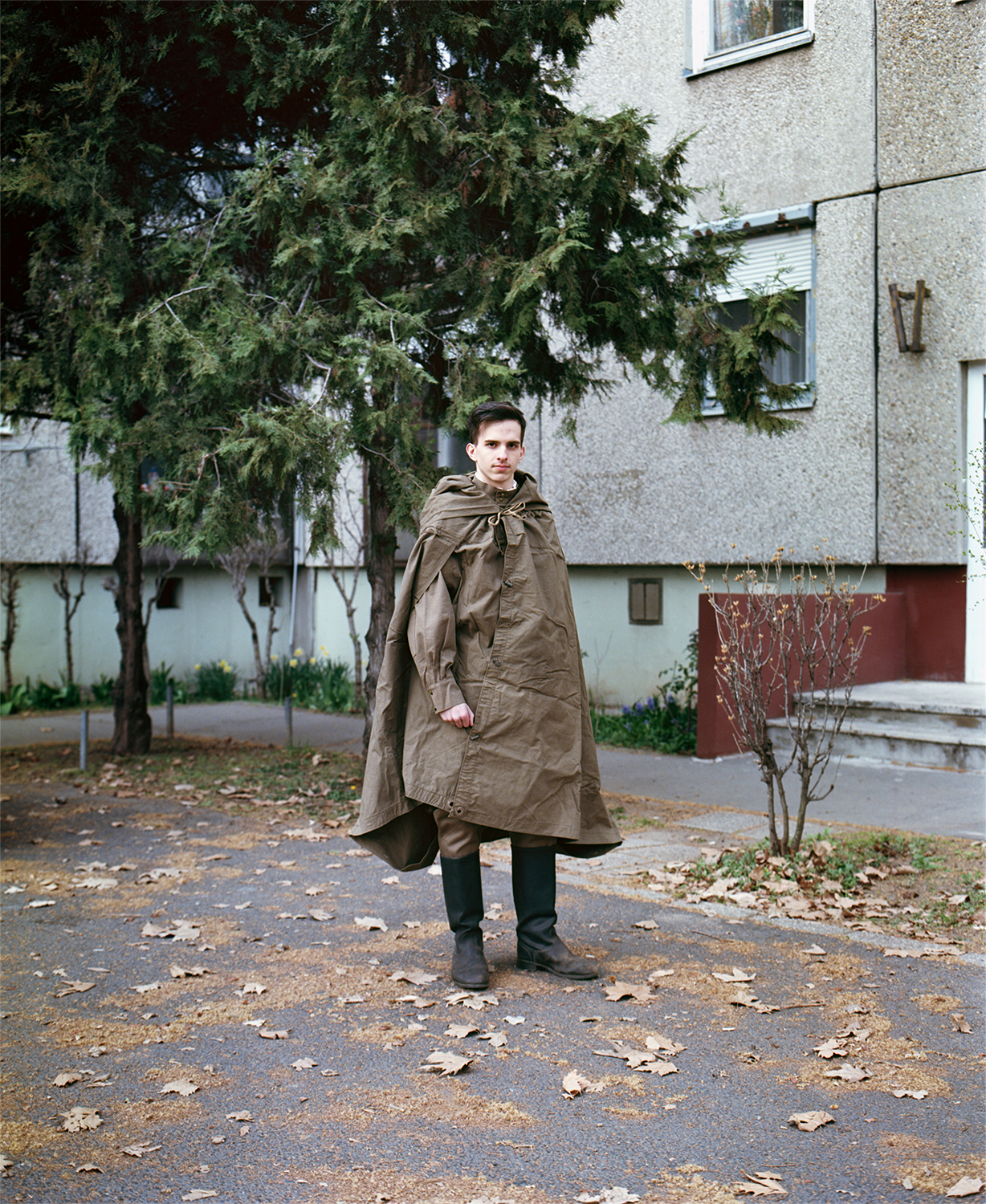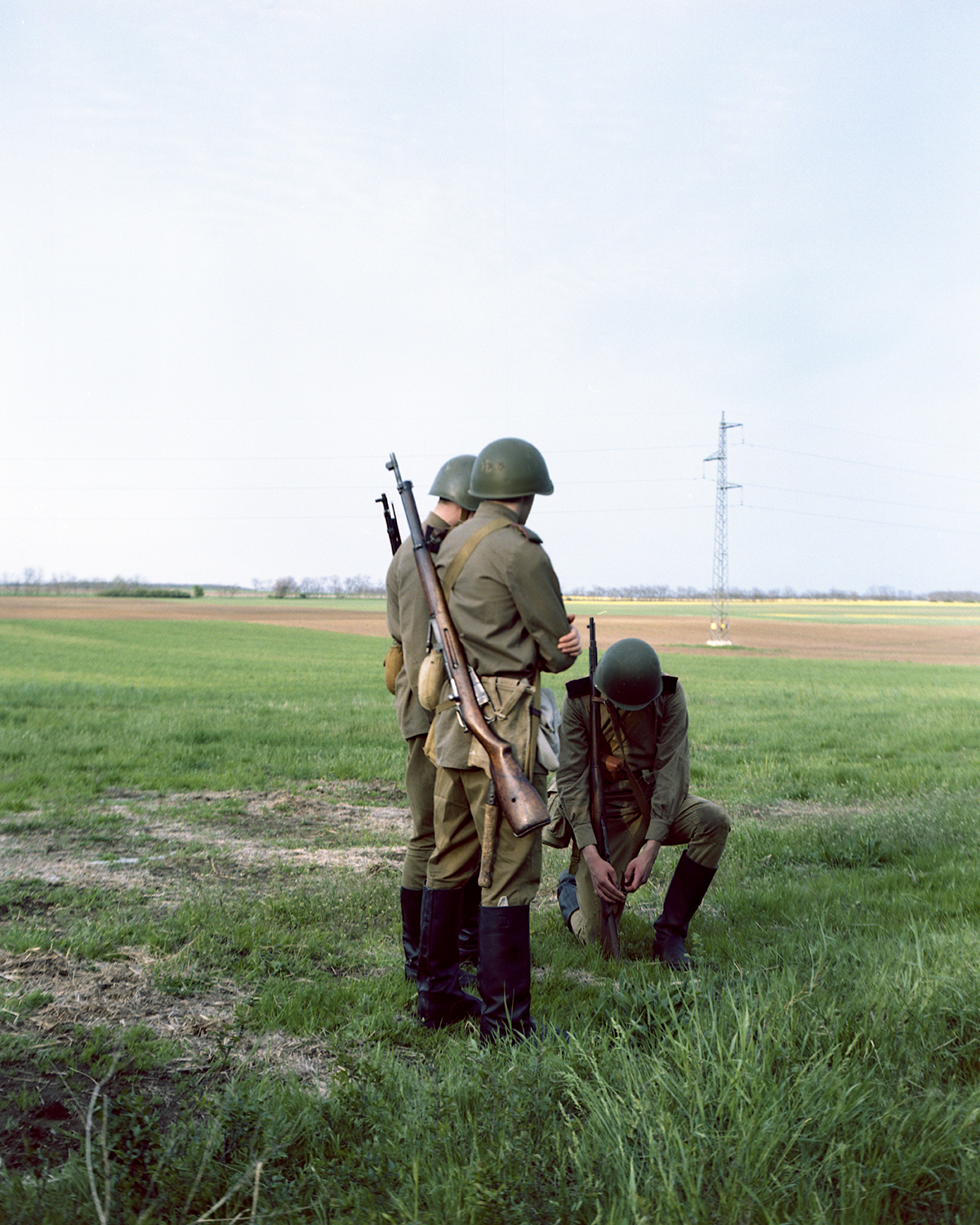 Fault

We are unable to recollect memories exactly as they happened, and we tend to colour them – those who are forgotten reappear in the unconscious and dreams. What does past impose on present in terms of transgenerational trauma?


Attempting to complete fragmented events, unknown history and missing persons of my childhood, I'm assembling a fictional archive with found family photographs from the Soviet Union, Russia, Israel and Hungary, and those I staged in the present with acquaintances and strangers.





Fault, MOME Photography Diploma Exhibition. Q Contemporary, Budapest, 2022.